Compliance & Ethics
Our Values. Our Culture. Our Commitment.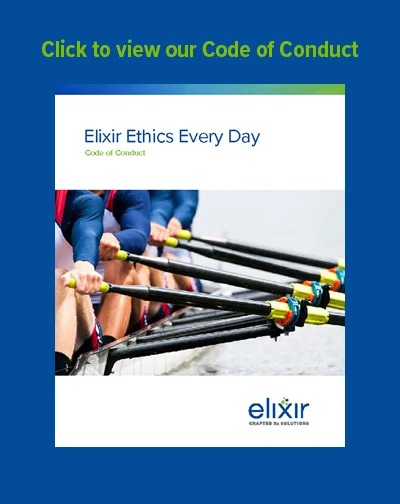 Elixir is committed to achieving the highest level of regulatory compliance and ethics. We foster a culture of doing the right thing through the key aspects of our Compliance and Ethics program: oversight, collaboration, innovation and education. We go beyond doing what is required by applicable laws and regulations to do what is ethically in the best interests of our clients, members and stakeholder.
Our Compliance and Ethics program leverages subject matter experts with core competencies in Legal, Pharmacy, CMS Program Audits and Audits/Monitoring—helping us achieve the highest standards of integrity, accountability and excellence. Our Code of Conduct and underlying company policies provide guidance to all employees on how to behave legally and ethically. As both a national prescription drug plan (PDP) sponsor and the PBM partner for more than 25 Medicare and Medicaid plans (including MAPDs, PDPs, SNPs, PACE programs and MMP programs) that cover more than 1.5 million members, we recognize the myriad of compliance requirements that our clients face and we partner with them to facilitate their compliance efforts, member satisfaction and high Star Rating goals.
If you have questions or would like to learn more about Elixir's Compliance and Ethics program, please contact compliancedepartment@elixirsolutions.com
For compliance concerns or to report an incident, please call the Compliance Hotline at 866-417-3069 or visit myethicsline.elixirsolutions.com