Improving Generic Utilization Reduces Costs
Posted: Jun 10 2016
Generic Prescription Drug Products
Introduction and Overview1, 2
Today, nearly all brand-name drug products are awarded patent protection in order to assist drug manufacturers in recouping research and development costs.  When drug patents expire, other drug manufacturers are able to create their own versions of the brand-name drug and apply for Food and Drug Adminstration (FDA) approval of a generic version.  A generic drug product is considered identical, or bioequivalent, to a brand-name drug in regards to its dosage form, safety, strength, route of administration, quality, performance characteristics, and intended use.  When a generic drug is approved by the FDA it has met the same quality and approval standards as the innovator drug (i.e. the brand-name drug).  For example, in order to obtain FDA approval, a generic drug must meet the following requirements:
Contain the same active ingredient(s) as the innovator drug
Be identical in strength, dosage form, and route of administration
Have the same indications for use (i.e. the generic drug is approved to treat the same conditions as the innovator drug)
Be bioequivalent
Meet the same batch requirements for identity, strength, purity, and quality
Be manufactured under the same strict standards of the FDA's good manufacturing practice regulations required for innovator products
The prevalence and utilization of generic drugs is significant.  In the United States approximately 80 percent of the prescriptions filled are for generic drug products.  For a variety of reasons, the majority of these generic drugs are sold at a substantially lower price compared to their innovator brand-name products.  The Congressional Budget Office estimates that generic drugs save consumers $8 to $10 billion per year in the retail pharmacy setting.  Consequently, generic utilization rates have the ability to directly impact the financial health of prescription drug plans.
Generic Drug Approval Process1, 3, 4, 5
Generic drug products are reviewed and approved by the FDA as part of the abbreviated new drug application (ANDA) approval pathway.  This approval process involves a thorough review of the scientific data related to the active ingredient(s), performance, and manufacturing of the drug product.  In order for a generic prescription drug product to be approved and marketed, the drug manufacturer must complete and submit an ANDA to the FDA.  ANDAs were created as a component of the Hatch-Waxman Act of 1984, which sought to encourage the development of generic drugs and to establish a system of generic drug regulation within the United States.  One advantage of the ANDA approval pathway is that it does not require generic drug manufacturers to repeat costly clinical trials for ingredients or dosage forms already approved by the FDA.  Another advantage of this system is that it encourages generic drug development and, consequently, competition amongst multiple drug manufacturers.  It is widely understood that increased competition is a critical factor in keeping generic drug prices low.  One study has estimated the price of a generic to be 90 percent of the brand-name price if there is one generic manufacturer, 63 percent of the brand-name price if there are five generic manufacturers, and 40 percent of the brand-name price if there are ten generic manufacturers.  The data listed in Figure 1 further supports this concept and illustrates a similar association between the degree of competition and generic drug prices.  In summary, the ANDA approval pathway allows for a more rapid and less expensive approval process for generic drug products which ultimately assists in controlling their cost. 
The idea that generic drug products are less effective or inferior to their brand-name counterparts is a common misconception amongst consumers and healthcare professionals.  To review, all generic drug products are required to meet the same approval standards as their brand-name counterparts.  Specifically, demonstration of bioequivalence between generic and innovator drug products is a key concept in understanding the quality and efficacy of generic drugs.  A bioequivalent drug is generally understood to be one that performs in the body in the same manner when compared to a reference or innovator product.  Bioequivalence is assessed by monitoring the time it takes a drug to enter a patient's bloodstream and then by measuring the drug's concentration level.  The results are used to evaluate the rate and extent of drug absorption, also known as drug bioavailability.  In order for a generic drug to gain FDA approval, it must deliver the same amount of active ingredient into a patient's bloodstream in the same timeframe as its brand-name counterpart.  It should be noted that the same bioequivalency tests are applied to brand-name drug products undergoing reformulation.  Again, demonstration of bioequivalence is just one of several FDA standards that generic drugs are required to meet.  Consumers and providers can be assured that generic drug products are as safe and effective as their brand-name innovator products. 
Figure 14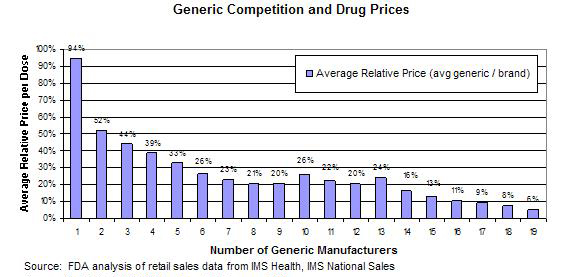 Financial Impact of Generics and MedTrakRx Cost Management Strategies3, 6
Utilization of generic drug products is clearly associated with a significant reduction in overall drug spend.  A 2005 analysis conducted by a large PBM estimated a potential annual savings of $20 billion resulting from therapeutic interchange to lower-cost agents in just eight medication categories.  To provide further perspective on the impact of the proposed savings, the authors also estimated that $20 billion could provide Medicaid coverage for more than 3.6 million uninsured individuals.  In 2011, a savings study by the Generic Pharmaceutical Association (GPhA) showed that utilization of generic drugs saved the United States healthcare system $158 billion (or approximately $3 billion per week) in 2010 alone.  Such data lend further support and evidence of the positive financial impact associated with higher generic utilization rates amongst patients.
MedTrakRx offers a variety of programs and plan design options aimed at increasing generic utilization rates amongst members. While each of these programs vary in their approach and processes, they all share the common goal of promoting lower-costing medication therapies when clinically appropriate.  Examples include:
Step Therapy Programs – Requires members to try lower-cost, generic medications prior to allowing coverage of more expensive brand-name medications.  Step therapy programs may be adopted as individual therapeutic categories or as a full suite.
RightChoice Drug Programs – Direct-to-member, plan-specific educational letter campaign that provides lower-cost medication alternatives to members.
Generic Incentive

(plan design copayment option)

– Requires members to pay their applicable copayment as well as the difference in cost between a brand-name drug product and its generic equivalent when the member chooses to fill the brand-name version of a multi-source medication.
References:
What are Generic Drugs?  U.S. Food and Drug Administration.  http://www.fda.gov/Drugs/ResourcesForYou/Consumers/BuyingUsingMedicineSafely/UnderstandingGenericDrugs/ucm144456.htm.  Last updated June 19, 2015.  Accessed: June 8, 2016. 
Generic Drugs Undergo Rigorous FDA Scrutiny.  U.S. Food and Drug Administration.  http://www.fda.gov/ForConsumers/ConsumerUpdates/ucm340343.htm.  Published October 28, 2015.  Last updated July 25, 2015.  Accessed: June 8, 2016.
ASPE Issue Brief: Understanding Recent Trends in Generic Drug Prices.  Department of Health and Human Services:  Office of the Assistant Secretary for Planning and Evaluation.  https://aspe.hhs.gov/sites/default/files/pdf/175071/GenericsDrugpaperr.pdf.  Published January 27, 2016.  Accessed: June 8, 2016.
Generic Competition and Drug Prices.  U.S. Food and Drug Administration.  http://www.fda.gov/AboutFDA/CentersOffices/OfficeofMedicalProductsandTobacco/CDER/ucm129385.htm.  Last updated May 13, 2015.  Accessed: June 8, 2016.
FDA Ensures Equivalence of Generic Drugs.  U.S. Food and Drug Administration.  http://www.fda.gov/Drugs/EmergencyPreparedness/BioterrorismandDrugPreparedness/ucm134444.htm.  Published August 2002.  Last updated August 21, 2015.  Accessed: June 8, 2016.
Choudhry N, Denberg T, Qaseem A.  Improving Adherence to Therapy and Clinical Outcomes While Containing Costs:  Opportunities From the Greater Use of Generic Medications:  Best Practice Advice From the Clinical Guidelines Committee of the American College of Physicians.  Annals of Internal Medicine.  2016;164(1):41-49.  
Back to all Clinical Notes